DJmark Membership Validation
City Nights Discos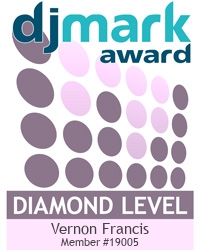 Vernon Francis at City Nights Discos is currently a PLATINUM DJmark Award Holder.
This is a difficult award to attain. A full list of aspects that were checked appears opposite.
The award only applies to Vernon Francis and not to other DJs who may work for or on behalf of City Nights Discos.