ALL

of our members are...
Verified
Independently checked credentials & feedback
Legitimate
Meet rigorous quality & safety standards
Insured
Public Liability Insurance is a pre-requisite
Reliable
Strong customer service & contracted bookings
Supporting quality mobile disco operators since 2007, DJmark helps you find local DJs that operate legally and with due regard for excellent customer service!
If you are looking for a dependable, high quality mobile DJ for a wedding, celebration, party or event, we can help!
We are the longest established and most rigorous awarding body for the UK mobile disco industry
We work with DJs in a number of different ways to help them develop and improve their business practices
We consult employers and industry leaders to make sure that assessments are relevant to the needs of all sectors
We regularly update the requirements for our awards to make sure they remain relevant in a rapidly changing world
If you book a DJmark Award holder, you can be assured that you will be working with "one of the good guys"!
We currently offer four levels of award - entry level, Gold, Platinum and Diamond and they are progressively harder to attain
Find out more about our four award levels and what our members have to do to achieve them
Badges on member websites should be clickable and link to a confirmation page on DJmark showing the same company details. They will show the company name and a 5-digit membership number, as per the examples below. Sadly we occasionally find non-members using badges without permission in an attempt to mislead their potential customers.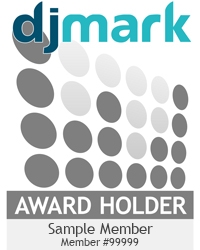 Entry-level award - insured and legal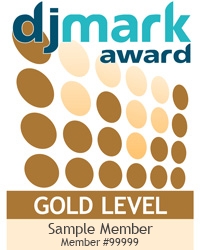 GOLD
+ verified positive customer feedback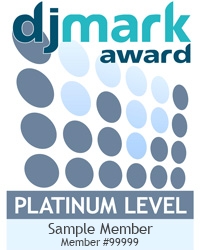 PLATINUM
+ health & safety risk assessments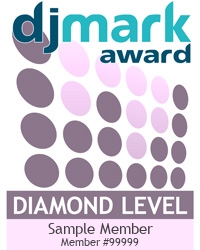 DIAMOND
Top level award for long-term members
Customer Feedback
Random feedback from a recent DJmark event
We only accept verified feedback from clients that booked their DJ via our websites
I was 100% delighted with DJ Graham, fair to say I had the best birthday party ever and I put most of it down to the music, we I was up on the dance floor most of the evening. Love the video that Graham has created of the event, a brilliant keepsake and all my 105 guests left having had a great night. I will definitely recommend to others and if I organise an event in the future I know where to come. Thank you so much for sharing how to pick a DJ email with me this helped greatly in my decision not to go on the cheapest DJ available!
Feedback received for 5 Star Discos following a Birthday 40th at The Sportsmans Club in Aberdeen
AUDIO QUALITY
LIGHTING QUALITY
PRESENTATION
MUSIC CHOICES
REQUEST HANDLING
MICROPHONE USE