DJmark Membership Validation
5 Star Discos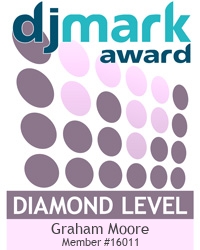 Graham Moore at 5 Star Discos is currently a DIAMOND DJmark Award Holder.
This is our highest award granted to just a handful of companies in the UK. A full list of aspects that were checked appears opposite.
The award only applies to Graham Moore and not to other DJs who may work for or on behalf of 5 Star Discos.
Contact 5 Star Discos
You can reach 5 Star Discos 0141 641 3112 or 07921 069258
Alternatively, fill in the following secure contact form.